It's been a while I know, I'm sorry!
But I'm back - and have some exciting news to share!
We are in the process of redoing - or rearranging I should say - our bedroom!
When we moved in we had a handmade, special to order, made just for me, buy a fine, fine craftsman, that we didn't know where to put. So it got put in the master bedroom and just kinda left there.
Well the other week David woke earlier than normal, and when he discovered I wasn't in bed, and there were no lights on in the living room or dinning room, he went looking for me. Where did he find me you may ask, since it was like just before 6AM?!?! I was in the master closet!
Yes, in the closet!
Sounds ridiculous? Not really, the closet is really pretty big!
Why was I in the closet?
Well, I was doing my devotions. I hate to come out to the living room and turn on the light. It seems like a small thing, but often times that's enough to bring attention to the kids that I'm up, and they think it's time for them to get up. So, I started going in the closet, and there I can turn on the light and it doesn't bother anyone!
Except David!
So we started talking about what we could do to make a place for me to do my devotions. Well, we decided to rearrange a bit. We moved the above mentioned cedar chest out into the living room (which is good for now, we'll have to see how it looks after we take the Christmas tree down - yes the tree is up already - click
here
to see it). Then we moved one of those fake ficus trees that we've had in there for forever out and moved our dresser around a bit, then... we went out and ordered a nice chair!
Yepper, a chair of my very own! It's this cute "Ladies" recliner, so basically it's a bit smaller than your average recliner, but it's really cute and comfy and I think it'll be perfect! We picked fabric and it's been ordered, so hopefully it'll be here before Christmas! This is the style, of course the fabric will be different, but it's cute, don't you think?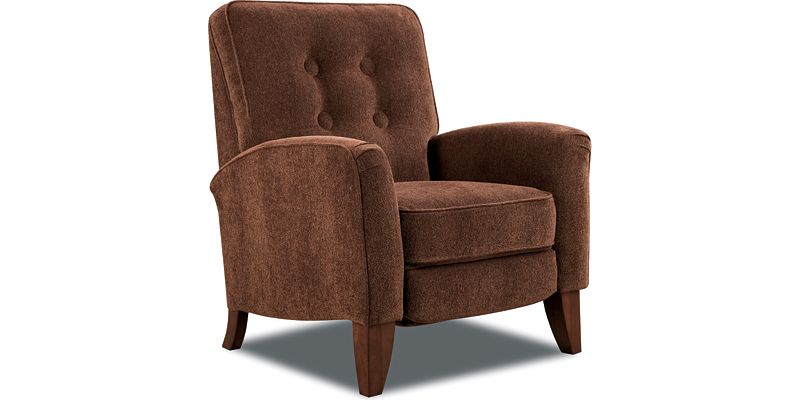 I didn't think to take "before" pictures - when all the furniture was in there, but I've got some since we moved stuff around, and I will of course take some when the chair comes!
This isn't great picture, but that's the room from the doorway!
This is the corner where the new chair will go!
Isn't that the best spot? Right there in front of the window! It's perfect for a reading chair!
I'm pretty excited! We'll see how David feels about it when I start turning a light on at 5:30 in the morning so I can read! Maybe I'll be moving the chair into the closet!?!?!? *smile*